Only 15 per cent of China's newly added post-Covid-19 national and municipal bonds went to green, sustainable, or low-carbon projects, says Greenpeace. China approved a fiscal stimulus package of 6.35 trillion yuan (US$984 billion) in May last year to help the country's economic recovery after the pandemic.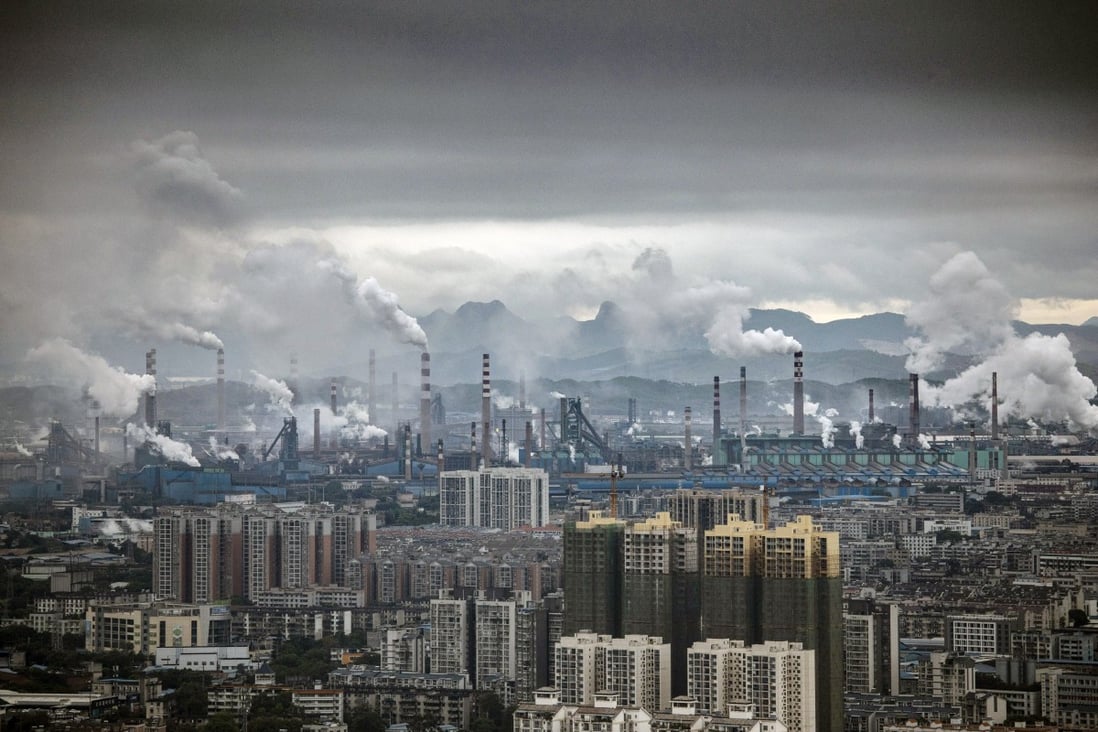 Only a small percentage of China's post-Covid-19 economic stimulus went to projects related to green and sustainable development, while huge investments were poured into carbon-heavy traditional infrastructure sectors, an analysis by Greenpeace found.
The study, published by Greenpeace East Asia on Monday, tracked how different Chinese provinces directed the relief stimulus packages in the past year based on publicly available government work reports and media coverage.
The environmental group found that about 90 per cent of Covid-19-relief national bonds and 60 per cent of newly added municipal bonds went to traditional infrastructure. Only 15 per cent went to green, sustainable or low-carbon projects, including green infrastructure, green transport, agriculture, forestry and waterways.
There was also a widening gap between provinces that were leading the country's green transformation and those heavily reliant on coal on how much they spent their fiscal stimulus package on green projects, Greenpeace found. Regions like Tianjin, Shanghai and Guizhou spent higher percentages of municipal bonds on green projects, such as green transport and agriculture. On the other hand, Shanxi and Inner Mongolia, both provinces that are heavily reliant on coal mining and energy generation, have made very little investment in green initiatives.
"The way local governments are conceptualising their opportunities to stimulate the economy in a green and sustainable approach is still a big issue," said Liu Wenjie, a policy analyst at Greenpeace East Asia's Beijing office. "While some parts of China are working towards a green and just recovery, others are missing the boat entirely."
The National People's Congress, China's parliament, approved a fiscal stimulus package of 6.35 trillion yuan (US$984 billion) in May 2020 to help the country's economic recovery after the pandemic. The stimulus, which included an extra 1 trillion yuan in deficit funding, a special national bond issue of 1 trillion yuan, 375 million yuan in municipal bonds, and 600 billion yuan in investment from the central budget, was equal to 6.4 per cent of the country's gross domestic product for 2019.
It's crucial for local governments to set longer-term visions and make green investment plans, as the investment returns from traditional sectors were shrinking, Greenpeace warned. It suggested both the central and local governments establish a green fiscal database and increase the disclosure of fiscal expenditures on investments to better assess the effectiveness of the stimulus and gradually shift towards a green recovery.
As the global economy shrank by 3.5 per cent in 2020, countries around the world adopted measures to boost the post-pandemic recovery. As of January this year, the economic stimulus adopted globally was US$16 trillion, almost equal to 19 per cent of the global GDP.
However, an analysis by the United Nations Environment Program on global economic stimulus and fiscal expenditure policies since the pandemic pointed out that only 18 per cent of stimulus was used for "green recovery", such as low-carbon energy, green transport, green building upgrades, or green research and development.
Although China's percentage of spending on green expenditure is not small, there is still room for improvement.
The evaluation of a country's green spending should also take more factors into account, such as the country's economic status and the trend of the green investment growth, said Lin Boqiang, dean of Xiamen University's China Institute for Studies in Energy Policy.
"Because China is still a developing country, and the carbon neutrality plan just started last year, it should take into account whether the proportion of green spending is increasing compared to previous years, rather than just looking at the percentage of green spending out of the total amount," said Lin.
"If more is invested in green projects, the scale of China's green economy will be larger, and the speed taken to reach its sustainability target will be faster."
By Yujie Xue
This article was originally shared by South China Morning Post.